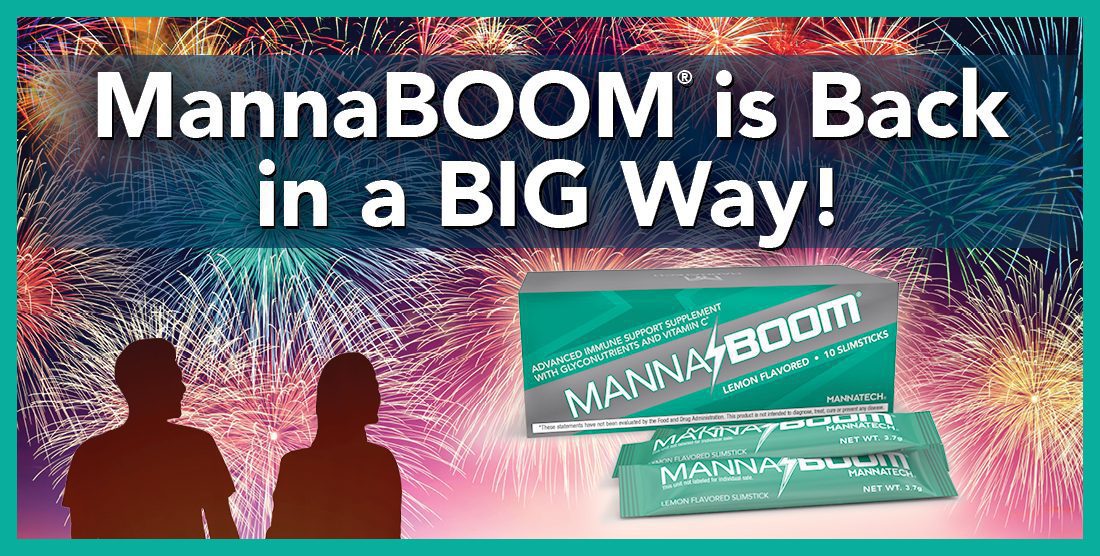 MannaBOOM is Back in a BIG Way!
We're here to tell you MannaBOOM® slimsticks are back in stock! Crack it open and ignite your immune system this summer!* Packed with key Glyconutrients† from our Ambrotose® powders, Wakame and powerful antioxidants, these tasty, on-the-go slimsticks are just the immune support you've been looking for.*
MannaBOOM is formulated to:
Help nourish immune cells and reinforce your body's natural immune resistance.*
Get a blast of support with our exclusive Manapol® powder, which may enhance the absorption of Vitamin C.*
Provide your immune system serious defense against free radicals with naturally-sourced antioxidants from Acerola and Wild Bush Plum.*
Stay active and kickstart your immunity with vitamin C and more with MannaBOOM (Item 35801)!*
†Glyconutrients are beneficial saccharides found in nature
---
美泰多醣免疫宝冲剂恢复大量供货!
我们特此通知您,美泰多醣免疫宝冲剂恢复供货!今年夏天,饮用美泰多醣免疫宝冲剂,激发免疫系统潜能!* 我们的醣质营养素粉、裙带菜和强大的抗氧化剂中含有重要的醣质营养素†,这些美味、随时可食用的冲剂正是您梦寐以求的支持免疫的产品。*
美泰多醣免疫宝冲剂配方具有下列优点:
帮助为免疫细胞提供养分,增强身体的自然免疫抵抗力。*
含有美泰独家的醣质芦荟萃取粉,可给身体提供强有力的支持,促进维生素 C 的吸收。*
利用采自针叶樱桃和野生矮李的天然抗氧化物,帮助您的免疫系统严密防御自由基的侵袭。
搭配维生素 C 等产品服用美泰多醣免疫宝冲剂(货号 35801),保持活力和激发免疫系统潜力!*
†醣质营养素是源自天然的有益糖类
*此说明尚未经过食品药物管理局评估。本产品不可用于诊断、治疗、治愈或预防任何疾病。
---
¡MannaBOOM está de regreso en GRANDE!
¡Estamos aquí para decirte que los paquetes individuales, slimsticks, de MannaBOOM® están de nuevo en existencias! ¡Ábrelos y reactiva tu sistema inmunitario este verano!* Llenos del Gliconutrientes† claves de nuestros polvos Ambrotose®, Wakame y poderosos antioxidantes, estos deliciosos paquetes individuales fáciles de llevar, son el respaldo inmunitario que has buscado.*
MannaBOOM está formulado para:
Ayudar a nutrir las células inmunitarias y a reforzar la resistencia inmunitaria natural de tu cuerpo.*
Darte un impulso de respaldo con nuestro exclusivo polvo Manapol® que puede mejorar la absorción de la vitamina C.*
Darle a tu sistema inmunitario una fuerte defensa en contra de los radicales libres con antioxidantes de fuentes naturales de acerola y ciruela silvestre.*
¡Mantente activo y reactiva tu sistema inmunitario con vitamina C y más con MannaBOOM (producto 35801)!*
¡Ordena tu MannaBOOM hoy mismo!
†Los Gliconutrientes son sacáridos benéficos que se encuentran en la naturaleza.
*Estas declaraciones no han sido evaluadas por la Administración de Medicamentos y Alimentos de Estados Unidos.  Este producto no tiene la intención de diagnosticar, curar, tratar o prevenir ninguna enfermedad.
---
MannaBOOM이 대규모로 입고되었습니다!
MannaBOOM® 슬림스틱이 재입고 되었다는 기쁜 소식을 알려드립니다! 슬림스틱과 함께 이번 여름 여러분의 면역 체계를 강화시켜 보세요!* 글리코뉴트리션†이 주요 성분인 Ambrotose® 파우더를 비롯해 미역과 강력한 항산화제로 이루어진 휴대용 슬림스틱은 여러분이 찾고 있는 바로 그 면역 지원 제품입니다.*
MannaBOOM의 효과:
면역 세포에 영양을 공급하고 신체의 자연 면역 저항력을 강화시킵니다.*
매나테크의 독점적인 Manapol® 파우더의 전폭적인 지지로 비타민 C 흡수를 향상시킬 수 있습니다.*
아세로라와 야생 부쉬 플럼에서 추출한 천연 항산화제로 활성산소에 대항해 면역 체계에 강력한 방어력을 제공합니다.
비타민 C를 비롯해 MannaBOOM(품목 35801)의 여러 성분과 함께 면역력 활성화를 시작해보십시오!*
†글리코뉴트리션은 자연에서 발견한 유익한 당류입니다.
*이러한 진술은 미국식품의약국의 평가에 의한 것이 아닙니다. 본 제품은 어떠한 질병의 진단, 처치, 치료 또는 예방의 의도를 가지고 있지 않습니다.