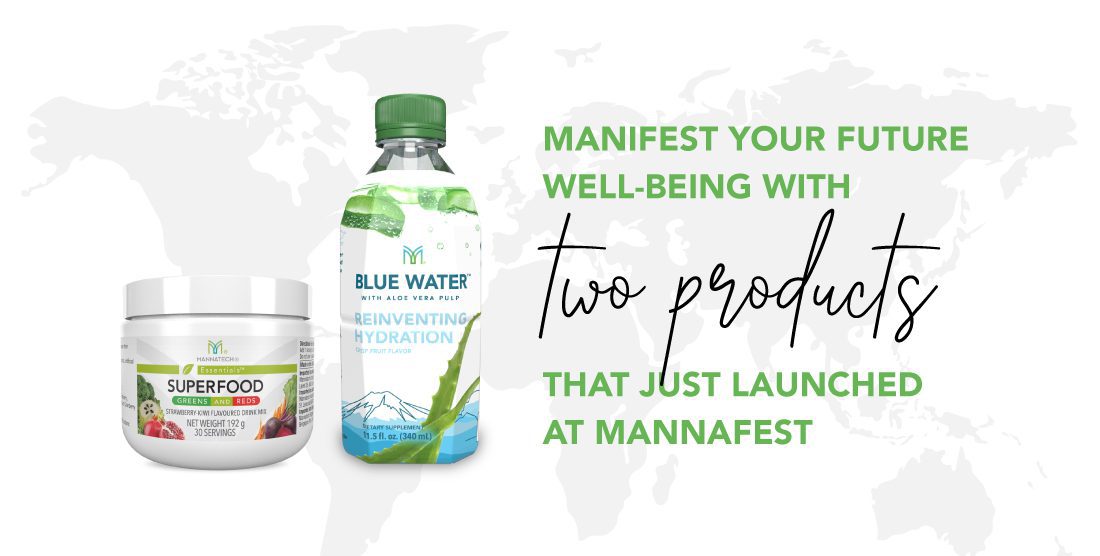 Meet the TWO PRODUCTS that just launched at MannaFest
MannaFest Unite was a colorful event with the introduction of two new products — one that's "Greens and Reds," and the other that's "Blue"!
If you watched or attended the event, you know firsthand that Superfood Greens and Reds UNITED with Blue Water™ as the latest Mannatech product innovations. Get to know more about these new arrivals below.
MEET YOUR NEW HEALTHY HABIT: SUPERFOOD GREENS AND REDS
Only 6% of Americans eat the recommended 5+ servings of fruits and vegetables a day.
Let Mannatech help you bridge that gap with Superfood Greens and Reds drink mix, a daily supplement containing phytonutrients from 20 plant extracts, fruits and vegetables.

DAILY NUTRITION, BOOSTED
• Can help increase endurance and energy*
• Supports performance and recovery after activity*
• Supports healthy cortisol levels*
• Helps support metabolism for weight management*†
• Supports healthy digestion with prebiotic fiber*
• Supports a healthy immune system and fights free radicals*
MEET YOUR BLUE ZONE OASIS IN EVERY BOTTLE: BLUE WATER
Blue Water is a functional beverage featuring water from a volcanic aquifer and 100% pure Aloe vera pulp — both sourced from a rare blue zone in Costa Rica where people have greater longevity. Our Blue Water supports nutrient absorption, like vitamins C and E, which makes it the perfect drink to wash down your morning vitamins.
HYDRATION + IMMUNE SUPPORT*
• Supports nutrient absorption like vitamins C and E*
• Supports deep hydration at the cellular level*
• Provides deep hydration to support more radiant, luminous skin*
• Supports healthy, hydrated skin*
• Supports healthy immune function*
• Supports healthy digestion and a healthy microbiome*
LIMITED TIME, LIMITED QUANTITIES: Blue Water will be available as a limited-time offer and only in limited quantities! If demand is high, we will evaluate making Blue Water a permanent offering.
†When taken in conjunction with a reduced calorie diet and exercise.
*These statements have not been evaluated by the Food and Drug Administration. This product is not intended to diagnose, treat, cure or prevent any disease.
---
Conoce los DOS PRODUCTOS que acabamos de lanzar en MannaFest
MannaFest Unite fue un evento lleno de color con la presentación de dos nuevos productos — ¡uno es "Verde y Rojo," y el otro es "Azul"!
Si viste o asististe al evento, sabrás de primera mano que Superfood Greens and Reds (Superalimentos Verdes y Rojos) UNIDOS con Blue Water™ son las últimas innovaciones de productos Mannatech. A continuación obtén más información sobre los nuevos lanzamientos.
TE PRESENTAMOS A TU NUEVO HÁBITO SALUDABLE: SUPERFOOD GREENS AND REDS (SUPERALIMENTOS VERDES Y ROJOS)
Solo el 6 % de los estadounidenses comen las más de 5 recomendadas cinco o más porciones de frutas y vegetales a día.
Deja que Mannatech te ayude a cubrir el vacío nutricional con la mezcla de bebida Superfood Greens and Reds (Superalimentos Verdes y Rojos), un suplemento diario que contiene fitonutrientes de 20 extractos de plantas, frutas y vegetales.
NUTRICIÓN DIARIA, MEJORADA
• Puede incrementar la resistencia y la energía*
• Apoya el desempeño y la recuperación después de la actividad*
• Respalda los niveles saludables de cortisol*
• Ayuda a respaldar el metabolismo para el control del peso*
• Apoya la digestión saludable con fibra prebiótica*
• Respalda un sistema inmunitario saludable y combate a los radicales libres*
VE A TU OÁSIS DE ZONA AZUL EN CADA BOTELLA: BLUE WATER
Blue Water es una bebida funcional con agua de la "zona azul" de Costa Rica y pulpa de aloe 100 % puros — ambos obtenidos de una rara zona azul en Costa Rica donde las personas tienen más longevidad. Nuestra Blue Water apoya la absorción de nutrientes, como las vitaminas C y E, lo que la convierte en la bebida perfecta para tomar tus vitaminas en la mañana.
HIDRATACIÓN y APOYO INMUNITARIO*
• Respalda la absorción de nutrientes, como las vitaminas C y E*
• Respalda la hidratación profunda a nivel celular*
• Ofrece hidratación profunda para respaldar una piel más radiante y luminosa*
• Respalda una piel saludable e hidratada*
• Respalda la función inmunitaria sustentable*
• Respalda la digestión saludable y un microbioma saludable*
TIEMPO LIMITADO, CANTIDADES LIMITADAS: ¡Blue Water está disponible como una oferta de tiempo limitado y solo en cantidades limitadas! Si la demanda es alta, evaluaremos la posibilidad de tener Blue Water como una oferta permanente.
†Cuando se toma junto con una dieta baja en calorías y se realiza ejercicio de forma regular.
*Estas declaraciones no han sido evaluadas por la Administración de Medicamentos y Alimentos de Estados Unidos. Este producto no tiene la intención de diagnosticar, curar, tratar o prevenir ninguna enfermedad.
---
了解 MannaFest 最近发布的两款新产品
本次的 MannaFest Unite 可谓是一场彩色盛会,有两款色彩鲜明的新产品上市 – 一款是"红色和绿色",另一款则是"蓝色"!
如果您已经观看或参加本场活动,就代表您已在第一时间了解过超级绿色食品和红色食品和 Blue Water(蓝水)这两款最新的美泰创新产品。请浏览下文,查看对两款新品的详细介绍。
培养新的健康习惯:超级绿色食品和红色食品
只有 6% 的美国人会遵循建议,每天食用不少于 5 份水果和蔬菜。
美泰的超级绿色食品和红色食品混合固体饮料可以助您一臂之力,它是一款日常补充剂,利用来自 20 种植物提取物、水果和蔬菜的营养素为您弥补这一营养缺口。

日常养生,增强体质
• 有助于提升耐力和精力*
• 促进机能和运动后的恢复*
• 保持健康的皮质醇水平*
• 促进新陈代谢,有助于体重管理*†
• 用益生元纤维保持消化系统健康*
• 促进免疫系统健康,对抗自由基*
品味蓝区绿洲精华,蕴含于每一瓶:Blue Water(蓝水)
Blue Water(蓝水)是一款功能饮料,选用火山岩地下水和 100% 纯芦荟果肉。其主要原料均来自哥斯达黎加的一个珍稀蓝区,此地以大多居民长寿而闻名。我们的 Blue Water(蓝水)可以加强对维生素 C 和 E 等营养成分的吸收,是您晨间的理想饮料选择。
补水 + 免疫支持*
• 加强对维生素 C 和 E 等营养成分的吸收*
• 支持在细胞层面进行深层补水*
• 提供深层补水,帮助您打造焕亮肌肤*
• 帮助您保持健康水润肌肤*
• 增益免疫功能健康*
• 保持消化系统健康,打造健康的微生物群系*
限时抢购:Blue Water(蓝水)将限时限量供应!如果需求量大,我们将进行评估,考虑让 Blue Water(蓝水)成为常驻产品。
†建议配合低热量饮食并定期锻炼。
*此说明尚未经过食品药品监督管理局评估。本产品不可用于诊断、治疗、治愈或预防任何疾病。