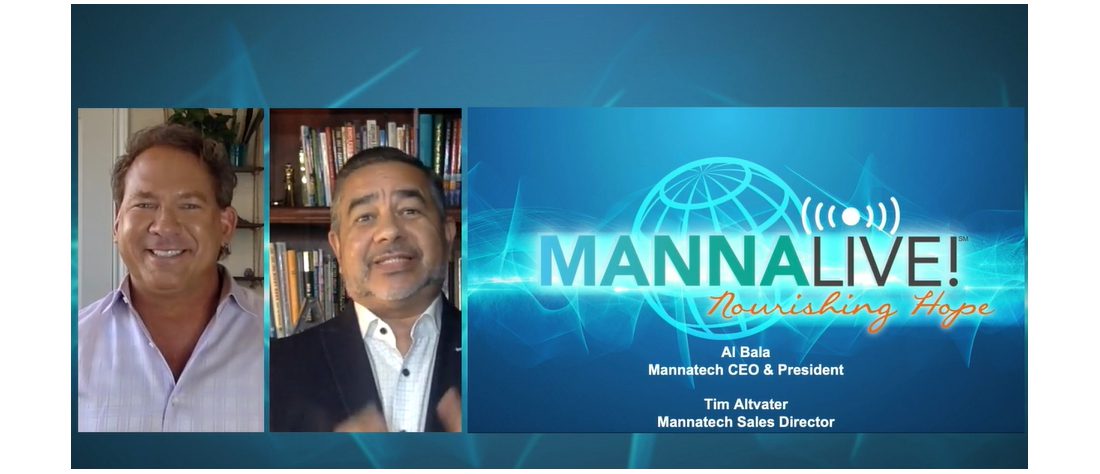 The Secret to Attraction Marketing Every Network Marketer Needs to Know
"I've found one tool that has the track record and simplicity to help you market your business." Al Bala
Today, 81% of marketers find increased traffic occurs with as little as six hours per week invested in social media marketing.† Tim Altvater and Al Bala discuss the blue ocean opportunity for digital marketing with the Add-Tag-Message (ATM) system to reach more people all over the world.††
Watch this on-demand video and see why 90% of people respond to Messenger and social media. See why you should be using these important tools!
Learn how digital marketing and social media platforms can:
Add value by communicating with people online.
Use video to attract and engage more people.
Build an online community for onboarding and advanced training.
Watch these industry leaders and see how you can shift your business with technology from Mannatech!
†Source – Mobile Marketing Magazine, December 2019††Building a business takes time and a lot of hard work. All commissions and bonuses are earned through the sale of Mannatech products. Mannatech does not guarantee the amount of income or incentive rewards, if any, that an Associate participating in the Mannatech business will generate. As with any business, each Associate's business results may vary and will be based on, among other factors, the Associate's effort and skill, the customer base available to him or her, and the time devoted to the business.
---
每个网络营销人员都应该知道的吸引营销秘诀
"我发现了可以帮助您推广业务的既行之有效又简单的工具。"Al Bala
如今,81% 的营销人员发现,每周只需在社交媒体营销上投入 6 个小时,就可得到显而易见收获。† Tim Altvater 和 Al Bala 讨论添加-标记-发送信息 (Add-Tag-Message, ATM) 系统为数字营销带来的蓝海机遇,将惠及世界上更多的人。††
了解数字营销和社交媒体平台如何:
通过与人们在线交流来增加价值。
利用视频吸引更多关注并与更多人互动。
创建入职培训和高级培训的在线社区。
观看这些行业领袖的视频,了解如何通过美泰技术改变您的业务!
†来源——《移动营销》杂志,2019 年 12 月††开拓业务需要付出大量时间和辛勤劳动。所有佣金和奖金均需通过销售美泰产品才能获得。美泰并不能保证参与美泰业务的经销商都将获得期望的收入或激励奖。每位经销商的业务成果可能各不相同,除了其他因素之外,主要取决于经销商的努力程度和所具备的技能、可供开发的客户群,以及在业务上投入的时间多寡,这与开展其他任何业务一样。
---
El Secreto a la Mercadotecnia de Atracción que Todo Comerciante de Redes Necesita Saber
"He encontrado una herramienta que ha sido demostrada y es simple para ayudarte a crecer tu negocio", Al Bala
Hoy en día, el 81 % de los comerciantes encuentran un aumento en el tráfico con tan solo seis horas a la semana invertidas en la mercadotecnia en redes sociales.† Tim Altvater y Al Bala hablan sobre el océano de oportunidades para la mercadotecnia digital con el sistema Etiqueta-el-Mensaje (conocido como ATM, por sus siglas en inglés) para llegar a más personas en todo el mundo.††
Ve este video y entérate por qué el 90 % de las personas responden a los mensajes directos y a las redes sociales. ¡Ve por qué deberías estar usando estas importantes herramientas!
https://mannatechvideos.wistia.com/medias/outbogxu20

Aprende cómo la mercadotecnia digital y las plataformas de redes sociales pueden:
Agregar valor comunicando con personas en línea.
Usar videos para atraer e involucrar a más personas.
Construir una comunidad en línea para incorporación y entrenamiento avanzado.
¡Mira a estos líderes en la industria y ve cómo puedes cambiar tu negocio con la tecnología de Mannatech!
†FUENTE – Revista Mobile Marketing, diciembre 2019††Construir un negocio toma tiempo y mucho trabajo duro. Todos los bonos y comisiones se ganan a través de la venta de productos Mannatech. Mannatech no garantiza una cantidad de ingreso o recompensas de incentivo, si existieran, que un Asociado participando en el negocio Mannatech puede generar. Como en cualquier negocio, los resultados del negocio de cada Asociado pueden variar y se basarán, entre otros factores, en el esfuerzo y habilidad del Asociado, la base de clientes disponible para él o ella, y el tiempo dedicado al negocio.
---
모든 네트워크 마케터가 알아야 할 어트랙션 마케팅의 비밀
"비즈니스 마케팅에 도움이 되도록 기록을 추적하고 단순성을 갖춘 도구를 찾았습니다." 알 발라
오늘날 마케터의 81%는 소셜 미디어 마케팅에 주당 6시간만 투자하면 트래픽이 증가한다고 말합니다.† 팀 알트파터와 알 발라는 애드-태그-메시지(ATM) 시스템으로 전 세계의 더 많은 사람들에게 다가갈 수 있는 디지털 마케팅의 블루 오션 기회에 대해 논의합니다.††
디지털 마케팅 및 소셜 미디어 플랫폼의 기능 배우기:
온라인 커뮤니케이션으로 가치 추가
더 많은 사람들을 유인하고 참여하게 하는 비디오 사용하기
온보딩 및 고급 교육을 위한 온라인 커뮤니티 구축
업계의 리더들을 보고 매나테크의 기술로 비즈니스를 어떻게 전환할 수 있는지 알아보십시오!
†출처 – Mobile Marketing Magazine, 2019년 12월††비즈니스 구축은 많은 시간과 노력이 드는 일입니다. 매나테크 제품 판매를 통해 모든 커미션 및 보너스를 받을 수 있습니다. 매나테크는 매나테크 비즈니스에 참여하는 어소시에이트가 생성할 수 있는 소득이나 인센티브 보상 금액을 보장하지 않습니다. 모든 비즈니스와 마찬가지로 각 어소시에이트의 비즈니스 결과는 여러 요소, 어소시에이트의 노력과 기술, 고객이 이용할 수 있는 기반 및 비즈니스에 소요한 시간에 따라 달라질 수 있습니다.